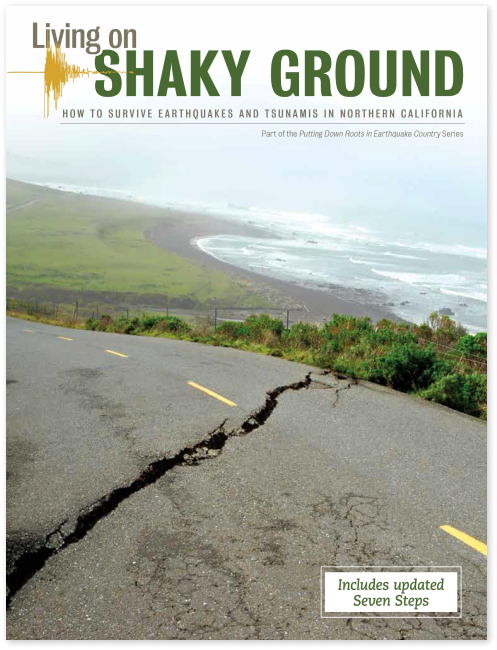 Living on Shaky Ground is our magazine about how to prepare for earthquakes and tsunamis.
This handbook explains how you can prepare for, survive, and recover from earthquakes and tsunamis. It also describes what you can do today to save lives, reduce injuries, and minimize damage.
About the publication: Advisory Board, Credits & Disclaimer
Highlights from the Magazine:
PREPARE
Identify items that may fall, topple or slide

Secure potentially hazardous and valuable items

Determine if you live, work or play in a tsunami hazard zone
Collect critical supplies
Sign up for emergency alerts
Special considerations: Children, elderly, pets, and livestock.
Create kits for home, work, and car
Be prepared to be isolated for at least a week
Identify weaknesses in your building and fix them
Consider earthquake and/or flood insurance
SURVIVE
DROP to the floor
TAKE COVER under a sturdy table or desk
HOLD ON until the shaking stops
If you are in a tsunami hazard zone, immediately WALK to higher ground or inland away from coast
Check for injuries and damage
RECOVER
If you evacuated coastal areas—stay away until officials permit you to return
Be in communication—use your radio for info
Expect aftershocks—some may be large enough to do additional damage