Everyone should have personal disaster supply kits. 
Keep one kit in your home, another in your car, and a third kit at work.
Keep them where you spend most of your time, so they can be reached even if your building is damaged or if you need to quickly evacuate out of a tsunami hazard zone. 
Personal/Office Disaster Supply Kit
Medications, prescription list, copies of medical cards, doctors' names and contact information

 

Medical consent forms for dependents and copies of personal identification

 

First aid kit and handbook

 

Non-latex gloves, dust masks

 

Spare eyeglasses or contact lenses and cleaning solution

 

Whistle (to alert rescuers to your location)

 

Sturdy shoes, change of clothes, blanket

 

Emergency cash ( ATMs require power and might not work)

 

Local road maps

 

List of emergency out-of-area contact phone numbers

 

Bottled water, snack foods high in water and calories

 

Flashlight with extra batteries and light bulbs

 

Comfort items such as games, crayons, writing materials, stuffed animals

 

Toiletries and personal care supplies

 

Extra keys for car, home, office, safe deposit box etc.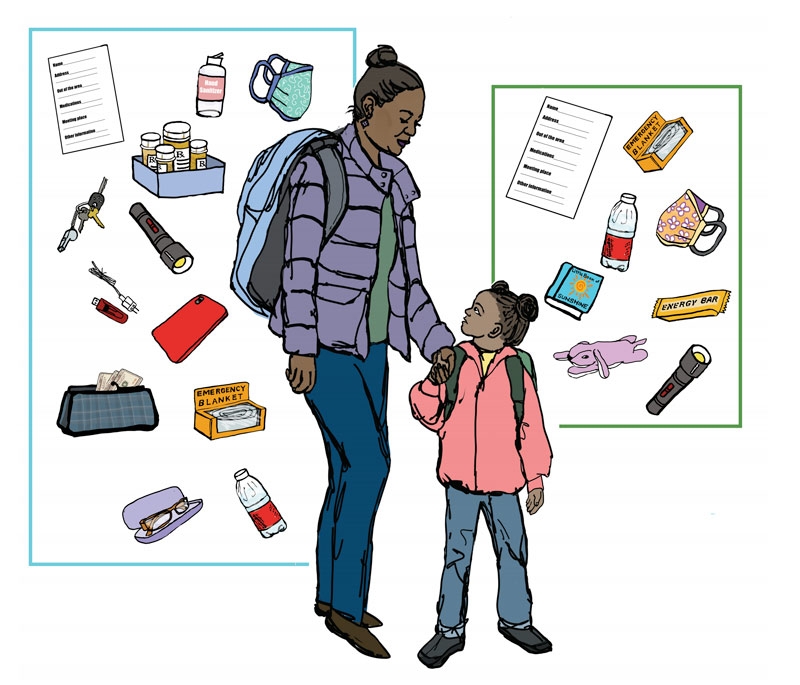 Store your items in "grab-and-go" backpacks or small duffle bags so you can take them with you if you need to evacuate. You could be stranded at work or in your office; keep a change of clothes and extra medicines there as well.
Household Disaster Supply Kit
Supplies for at least seven days
Store in an easily-accessible location, preferably outdoors, in a large watertight, easily-moved container. Replace perishable items like water, food, medications and batteries on a yearly basis.
Water (minimum one gallon a day for each person and pet)
Wrenches or other special tools to turn off gas and water supplies
Work gloves and protective goggles
Heavy duty plastic bags for waste, and to serve as tarps, rain ponchos, etc. Include duct tape.
Portable or hand-cranked radio with extra batteries
Additional fl ashlights or light sticks
Canned and packaged food
Charcoal or propane for outdoor cooking and matches if needed
Cooking utensils and a manual can opener
Pet food, pet carrier and restraints
Comfortable, warm clothing including extra socks
Blankets and/or sleeping bags, and perhaps a tent
Copies of vital documents (deeds, insurance, bank accounts etc.)
Car Disaster Supply Kit
Decide what items in your personal kit are absolute necessities and add:
An additional 6-pack of water
Tire repair kit, booster/jumper cables, pump and fl ares, white distress flag or silver space blanket
Seasonal supplies: winter (blanket, hat, mittens, shovel, sand, chains, windshield scraper); summer (sunscreen and hat)