We remember: March 11, 2011
We remember the M9.1 earthquake of March 11, 2011. The earthquake and tsunami caused great loss in Japan and damaged harbors and coastal areas across the Pacific.
These communities have worked hard to recover from the damage and sorrow. The years since the tsunami have also forged special connections between communities across the Pacific, spurred scientific collaboration, and produced significant advances in understanding earthquake and tsunami hazards and promoting resiliency.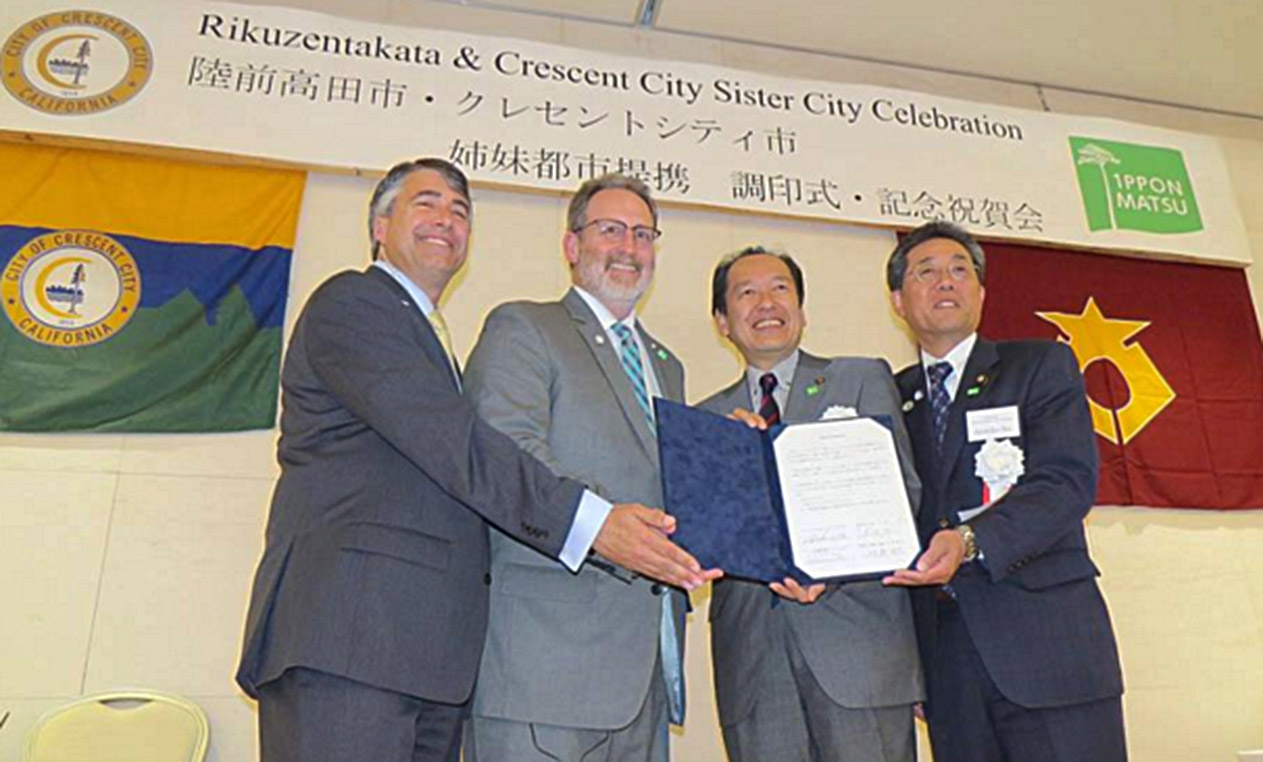 Suzie Howser, Dockmaster for Humboldt Bay (retired), recalls the events of March 11, 2011
After an early morning call, Suzie headed to Woodley Island. Below are excerpts from her reflection:
"Before leaving my home, I contacted the US Weather Service at Woodley Island for verification of event, projected timetables, and called senior staff members to advise them of the situation. All hands were needed to begin evacuation procedures.
Once at Woodley and as staff began to arrive, we started with notification of tenants. Staff went boat to boat, dock to dock to wake up any tenants that may be on board and advise them to evacuate the Island. Staff also checked and added additional lines to boats that needed them. Other staff were evacuating emergency equipment and supplies to an alternate location in Eureka.
[...] In the background, we heard the radio station say that Crescent City had been hit hard and their docks were destroyed. Suddenly, our phones were ringing off the hook, Crescent City boaters were calling. Boats that could make it, were heading our way and some boats were heading to Brookings. Remember, we had a storm approaching the coast. Our neighbors needed our immediate assistance. The Humboldt Bay Bar was rough, and [the US Coast Guard] were not sure boats could make it across, but they also understood. The Crescent City fleet had no other place to go. We received word that Brookings Harbor took a hard hit as well and knocked out one of their piers. Some boats who were heading to Brookings now turned around and were heading to Humboldt and others who were too small or did not have enough fuel had to wait outside Crescent City Harbor for the surges to slow down so they could anchor in the outer harbor to ride out the storm.
[...] A friend called me that evening from their home on Humboldt Hill.  They could see the entrance to Humboldt Bay. They said that they could see groups of boats. One boat would come in and sit in the turning basin then the rest of the boats in that group would come in and follow the first boat up the bay towards Eureka. They watched this as other groups arrived.  What I found out the next morning is that some Captains had never been to Humboldt Bay before so the experienced Captain would come in first and guide the others.  We also found out that some boats were in such a hurry to leave Crescent City they were running single-handed.  As boats arrived and docked, crews would run over to another boat to assist with lines. 
By morning we had 50+ additional boats inside Humboldt Bay. Some at the City of Eureka, Englund Marine, Pacific Seafoods, Caito Fisheries, and Woodley Island.  I was happy to see one boat in particular. The last boat that made it out of Crescent City Harbor was sitting quietly in a slip on F Dock. Fishing vessel Amanda B. I called Rich Young, CEO of Crescent City Harbor District and gave him an inventory of the Crescent City Boats, told him we would keep him up to date and offered any assistance we could.
We learned a lot from this event, and I hope we are all better prepared for the next.