World Tsunami Day recognizes ordinary people whose quick thinking and actions saved not only themselves but others around them. 
Explore how World Tsunami Day came to be and stories of individuals who saved themselves, their families, their schoolmates, or their communities through awareness of tsunami hazards.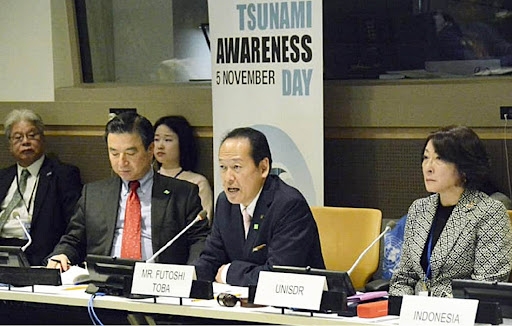 Mayor Toba of Rikuzentakata addressing the United Nations on November 5, 2018 to highlight the experiences of the Great East Japan tsunami and how the small boat Kamome connected the cities of Rikuzentakata and Crescent City in Northern California.
Origins of World Tsunami Day
In the winter of 1854, a magnitude 8.4 earthquake struck Japan's Kii Peninsula. After the earthquake, Goryo Hamaguchi, an elder in the village of Hiro, set fire to sheaves of newly harvested rice to get the attention of villagers near the coast and guide them to high ground in the darkness. The 1854 tsunami caused damage and casualties, but his actions saved many in Hiro. It became part of Japanese folklore and was recounted by Lafcadio Hearn in 1897 in one of the earliest stories about Japan in the English language.
A Japanese delegation to the United Nations requested that November 5th be designated World Tsunami Day in remembrance of Goryo Hamaguchi and how knowing that tsunamis can quickly follow large earthquakes saved his village. In establishing World Tsunami Day, Yuki Matsuoka, head of the UN Office for Disaster Risk Reduction, explained "Rather than selecting a memorial day or a tragic day, such as 11 March or 26 December, 5 November was selected as a 'forward-looking' day when many lives were saved due to proactive actions." You can learn more about World Tsunami Day by visiting the United Nations website.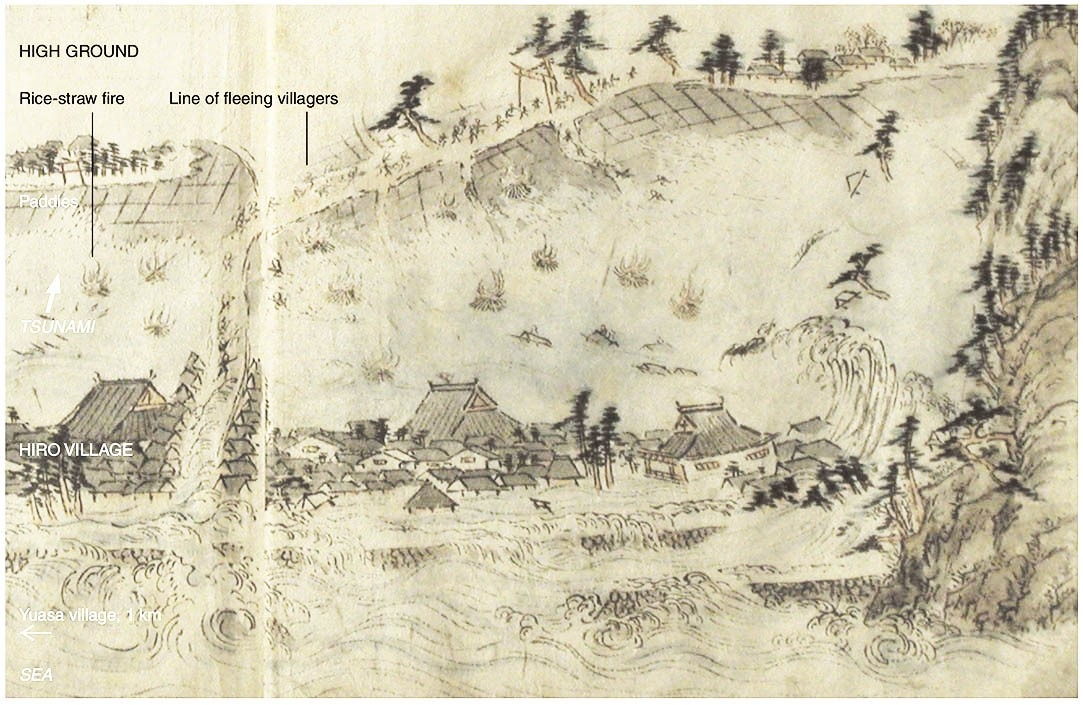 The Rice Sheaf Fire painted by Furuta Shōemon soon after the 1854 tsunami.  From Atwater et al., The Orphan Tsunami.
View a more detailed account of the 1854 tsunami in this excerpt from The Orphan Tsunami 
Learning From Past Tsunamis
Tsunamis can impact people near and far from where they are created.  Learning how tsunamis form, the signs that a tsunami is coming, and how to be safe during a tsunami will save our lives and those around us. Ordinary people can be tsunami heroes and heroines.
A children's book and curriculum activities suitable for all ages based on the 1854 tsunami and the more recent 2011 Great East Japan earthquake and tsunami are available at The Extraordinary Voyage of Kamome website.
This year, the United Nations has launched the Ocean Decade with a goal of working towards helping communities become Tsunami Ready. You can learn more about the plans for this year's progress in the Ocean Decade by checking out the UNESCO page and hear personal stories from eye witness accounts, members of Tsunami Ready communities, and tsunami experts - UNESCO Tsunami Awareness.
United Nations Office for Disaster Risk Reduction - World Tsunami Awareness Day 2021
To learn more about tsunamis and the importance of preparing for them, visit our resources included below. 
What You Can Do To Prepare
Creating a tsunami evacuation plan is just as important as creating other emergency plans. Take a moment to find out if your home, work, or favorite spots to visit are located in a tsunami zone. Visit the California Geological Survey website to explore the interactive tsunami map by typing in your address or check out our Tsunami Hazard Maps for the north coast.
California Geological Survey Interactive Map
Our partners at TsunamiZone.org have created a helpful guide to show you the steps to take to plan your tsunami evacuation drill. Download their Tsunami Walk Guide for more details.  Tsunami Walk Guide
Follow along with us as we practice our tsunami evacuation drill at the Manila Community Center on the North Spit. Practice makes perfect!